Bought several pumpkins from Dollar Tree,
Now what to do, what to do,
Took me a long time before I decided on a pumpkin with ruffles…
Isn't it cute?
Here's how…
Used a stencil knife to cut out the stem, then primed with white paint.
Ripped 6, 1 1/4″ wide strips using Osnaburg muslin (love it, rips well)
Gathered the fabric on the top of the long edge, and starting pinning to pumpkin. I  didn't hem the fabric, and just overlapped the edges at the end of each row.
Kept adding another row until I reached the top. Once I had all the rows done I went back and hot glued, removed pins.  So Shabby!
I had a remnant piece of burlap ribbon and tucked inside, and put a Dollar Tree black crow on top.
A closeup, loving it!
Got to go, need to make a few more!
What have you been doing with your pumpkins?
Linking to these par.tays!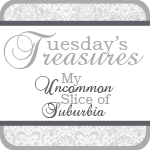 \