Today is our 3rd guest post during our 1st Blogaversary celebration!
Excited to have Two Succulent Sisters, Linda and Carol guest posting today.
Have you seen the craze around blogasphere on square wreaths?
Wait no more..
I'm jumping for joy to finally see how to make one!
Take it Away Girls!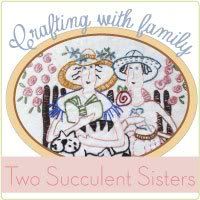 Congratulations, Cathy, on your One Year Blog Anniversary!!
You have such a beautiful blog and I'm more than a little excited
 to be doing a guest post for your "My 1929 Charmer". My sister, Carol, and I
have a craft blog together over at
Two Succulent Sisters
and we are here
to help you celebrate! Okay, so on to the celebration!
Lately, I've been taking old picture frames and turning them into door wreaths. When I first
saw them around the blogs, I resisted. I just didn't see how they were
better than the round wreaths. Well, that was before I started making them.
That all changed after I made my first one. I think I like taking something that is no longer attractive or  useful and turning it into something beautiful and functional. I think that's it. It's not
a craft obsession, is it?
I scrounged around for a frame. I found lots of old frames in a closet and added them
all to a pile so I can work on even MORE of these fun wreaths. Here is the one
I chose for this project.
See how skinny the frame is? I didn't see how it could be any good even after
wrapping with fabric. It would just not stand out enough and it might not even
be able to support much of any decorations either.
But do you see the mat? I had a brainstorm and decided to
leave the mat on the frame and wrap the fabric around both
the mat AND the frame which would make the frame
quite a bit
wider.
So I taped the mat to the frame and wrapped the fabric around both. Wow! It made the
frame so much bigger. Now there will be plenty of room to glue on all kinds of goodies!
I had just the right cotton beige fabric which I ripped into strips about 5 inches wide. I turned under
the raw edges and then wrapped the fabric around and around while hot gluing some places
here and there to keep it secure. Now I was ready for the fun stuff!Here's a picture of the work table and the stuff I was "interviewing" to put on the wreath..
I started trying out items to put on the frame. This was a little tiny bird painting
I did last year, so I threw that on with some other stuff I had gathered for the project.
Isn't that a cute little "shabby" type doorknob? I bought it at a Garden Show in Connecticut a few years ago. It was hanging on the wall, but I grabbed it in my frenzy of running around the house looking for things to put on these wreaths. 🙂
I kept putting things on the frame and taking pictures of each new "wreath". Then I'd take
everything off and put all new stuff on and take some more pictures. I won't
belabor you with all the different variations I ended up doing. That's for
another post at another time. Sufficeth to say it was
more than what I have shown here.
In my frenzy through the house to find "stuff" for the wreaths, I took off the wall
this really cute framed embroidery
"Beached and loving it" that I had purchased at an antique store at the New Jersey shore.
I thought it might look nice on the "beachy" wreath.
Just about then my daughter came in. She liked the wreath so much I told her she could have it and that she could choose what went on it. She really liked this COTTAGE sign I've had hanging in the front hallway so we took off the "Beached and loving it" sign and put on the COTTAGE sign.
She also liked these two little felt birds I made last year so we sat them on top of the COTTAGE sign.
They look pretty content to be sitting up there, don't they?
Here is the final cut:
And here is the wreath on the mantel at my daughter's house.
I hope you all enjoyed this little article about how I made an
old frame into a beach house wreath.
And, Cathy, I'm so glad to have found your wonderful blog and even better that I have
been asked to become a small part of it. May your next year of blogging be an
even better adventure for you!
---
Make sure you check out Two Succulent Sisters – Linda and Carol are two very creative ladies!