Good Morning,
Today I am so excited to have Lori @ Pleak 2 Unique guest posting during my 1 year Blog Anniversary Par.tay!
Lori is one creative Lady, and oh so talented!
Do yourself a favor and check out her beautiful blog,  and all her great projects and inspiration.
You will not be disapointed!!!!
Lori has donated a Michael's $25 gift card for a giveaway tomorrow – make sure you stop on by!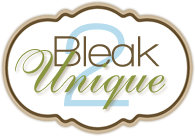 Hi y'all! I'm Lori and I blog over at

Bleak 2 Unique

where I love to upcycle, recycle, and create beauty for our home. But this isn't about me, is it?
I'm super excited to be a part of Cathy's First Anniversary Party.
"My 1929 Charmer" is delivered to my inbox and I always find myself inspired by Cathy's creativity. If you haven't seen her Kitchen Reveal you have to take a look…it is fabulous! Can you tell I'm lovin' Cathy's style? Take a look around and you will too! Thanks Cathy, and Happy Blog-iversary!!
Let's keep the party going with some faux mercury glass, and a Michael's giveaway!
My garage is full of treasures that I've picked up thrifting and on Craigslist, but my latest find was already in the garage. This baby was just gathering dust on a shelf when I spotted it…
The "wavy" glass was so pretty I almost changed my mind about painting it, but paint can be removed, right? So I forged ahead…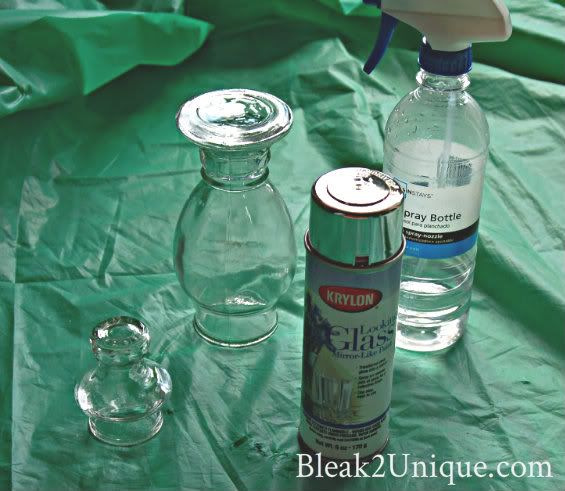 Supplies…Jar, Paint and Water
I found some Krylon "Looking Glass" paint at Michael's, and with my 40% off coupon the price was about the same as any other spray paint….love a bargain! To get a "Mercury glass" look I sprayed the inside with a mist of water before painting. I tried to do several light coats but I ended up with more on my hands than in the jar. I finally went with spraying quite a bit, swishing it around, and turning it over to drip…
After several coats the finish was complete, but I wanted more of a distressed look…
A little to shiny
To add a little distressing I mixed a teaspoon of vinegar in my water, lightly sprayed the inside, and then patted off the excess. I like the hint of aging, and I may even add some more…
So do you think my "mercury glass" could use a little more distressing, or do you like it as is? I would love to read all your wonderful comments. Thanks for inviting me to your party Cathy!
Make sure you stop by tomorrow for a change to win a Michael's $25 gift card giveaway!!!